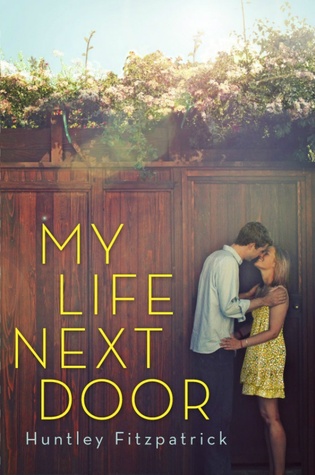 Title: My Life Next Door
Author: Huntley Fitzpatrick
Pages: 394
Average Rating: 4.05 Stars
My Rating: 5 STARS
Synopsis (From Goodreads):
"One thing my mother never knew, and would disapprove of most of all, was that I watched the Garretts. All the time."
The Garretts are everything the Reeds are not. Loud, messy, affectionate. And every day from her rooftop perch, Samantha Reed wishes she was one of them . . . until one summer evening, Jase Garrett climbs up next to her and changes everything.

As the two fall fiercely for each other, stumbling through the awkwardness and awesomeness of first love, Jase's family embraces Samantha - even as she keeps him a secret from her own. Then something unthinkable happens, and the bottom drops out of Samantha's world. She's suddenly faced with an impossible decision. Which perfect family will save her? Or is it time she saved herself?
My Review:
Okay, so let me just first say that I don't give a lot of books 5 stars. I usually rate them around
4.5
stars, because while I usually like most books I read, there's always
something
that annoys me to the point where I subtract stars. My Life Next Door didn't have any of those. It was basically my idea of a perfect book. Especially because I don't usually like contemporary, mushy-gushy kind of reads.
I know there's a lot of people won't feel the same way about this, but I identified
a lot
with the main character, Samantha. The whole,
your life is so perfect and everything is so easy for you
thing is definitely familiar.
The only character in this book that is truly unlikable is Clay because
politics
. By the end of the book, at least. I feel like a lot of people would hate Nan (Sam's best friend) by the end, but I actually still like her, and her brother Tim grew on me after awhile.
So the synopsis of this book makes it seem like this book will be 400 pages straight of cutesy love-birdy type scenes.
It isn't. At all.
There's a lot more family issues than there are relationship issues. That was quite nice actually, and not at all what I was expecting.
My Life Next Door was very....blunt. There was a ton of cursing. Well, I guess most of it was Tim, but
still
. I'm kind of glad this wasn't one of those books that pretends teenagers don't curse.... The author was also pretty blunt about
heath class
-type issues. So if you haven't had a lot of heath classes, I suggest you take one or you will be confused around halfway through this book.
I really liked that the author wrote about a lot of issues, relationships, family, guilt, politics, drugs and alcohol. It wasn't what I was expecting from this book in the slightest, so I was definitely pleasantly surprised.
This is definitely one of those books that's going right up there with John Green.
Recommend?
Ummm.... I feel like a lot of parents would be a little iffy about the issues discussed in this book, but I would be surprised if any of them were new to a teenager. I love this book, but if you are made uncomfortable by cursing or health class, I would be cautious.
Anyway, this is the type of book I'm not sure a lot of people would be
okay
with. It depends on you, I guess.
I love it?
Thanks for reading!